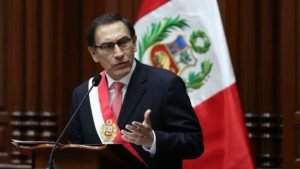 February 20, 2018 – Meeting with Ambassador for Peru – Indigenous Trade
Wayne Garnons-Williams, the Chair of the International Inter-tribal Trade and investment Organization (www.iitio.org) sat down with His Excellency, Martin Vizcarra, the Peruvian Ambassador to Canada, for two hours to discuss the topics of Indigenous Trade, Reconciliation and Recognition of Indigenous Economic Rights. At the time, Garnons-Williams did not realize that within a month, Ambassador Vizcarra would become President Vizcarra of Peru.
IITIO is pleased to announce that the 5th International Indigenous Trade Mission and Conference in British Columbia. Canada September 21-23, 2018 will be key-noted by another important Ambassador to Canada, Mr. David Mellsop, the New Zealand High Commissioner to Canada.  To register and learn more about the fall Conference simply click on the Register button on the IITIO website. http://www.iitio.org
Ambassador Vizcarra advised that as Ambassador, he was keeping a close eye on the various innovations for Indigenous peoples of Canada, including the Indigenous Trade Chapter being developed by Canada as part of Canada's Progressive Trade Agenda. Ambassador Vizcarra explained that when he was a regional governor, the population of his region was approximately 40% Indigenous. Vizcarra said that he sees Canada's work on Indigenous issues as something from which Peru could learn.
One month later, on March 23, 2018,  Martin Vizcarra was sworn in as Peru's President after the South American country's Congress accepted the resignation of his predecessor, Pedro Pablo Kuczynski.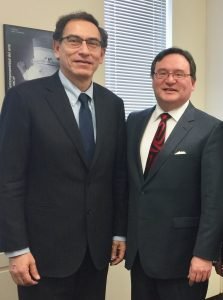 Background
Vizcarra, who is 55 years of age, joined former Peruvian President Kuczynski's campaign as an adviser in 2015 after a four-year term as Governor of the Moquegua region in south Peru.  As the former governor of the mining-rich province, Vizcarra is seen as business-friendly.
During the early Presidency of Pedro Pablo Kuczynski, Vizcarra was appointedTransportation Minister, but left his ministerial post in May 2017 under pressure from lawmakers amid a spat over an airport contract.
In October, 2017 Vizcarra was appointed Peru's ambassador to Canada. On March 21, 2017, Natalia Santanilla, Executive Assistant to the Ambassador in Ottawa stated that "His Excellency, Ambassador Vizcarra, will be finishing his duties as ambassador today and he's on his way back to Peru."
President Vizcarra will serve out Pedro Pablo Kuczynski's term, which ends in 2021.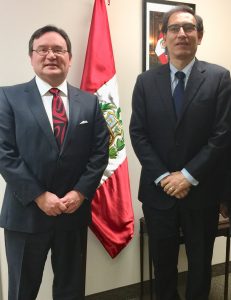 President Martin Vizcarra's Acceptance Speech
Speaking after the Presidential swearing-in ceremony, President Vizcarra said tackling corruption would be a priority for his government. The new President promised to fight corruption "head on" in his role as President after Kuczynski resigned amid ongoing corruption scandals.  He also urged all sides to put an end to a politics of confrontation and to work together to achieve growth.  "This is a new beginning for Peru," he said.  "We need to define clear goals for the country, leaving aside political differences. We are responding to the responsibility that we all have with the country. With faith and optimism, Peru can always move forward," newly sworn-in President Vizcarra told reporters at dawn on arriving at his home in Lima's San Isidro district, according to El Comercio.