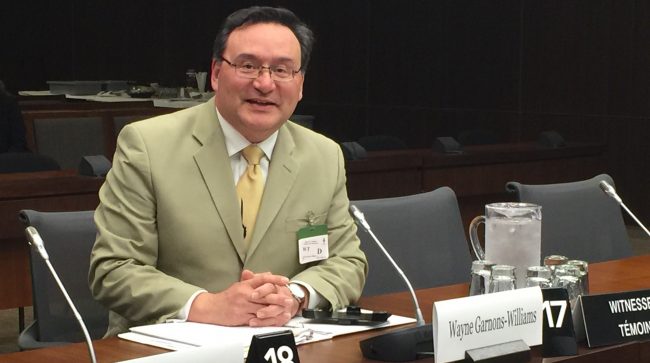 On September 18, 2017, Wayne Garnons-Williams made submissions to the Canadian Parliamentary Standing Committee on Trade on behalf of IITIO in Ottawa, Canada.  The video testimony can be viewed through this hyperlink:
http://parlvu.parl.gc.ca/XRender/en/PowerBrowser/PowerBrowserV2/20170918/-1/27823?Language=English&Stream=Video&useragent=Mozilla/5.0%20(Windows%20NT%206.1;%20Win64;%20×64)%20AppleWebKit/537.36%20(KHTML,%20like%20Gecko)%20Chrome/60.0.3112.113%20Safari/537.36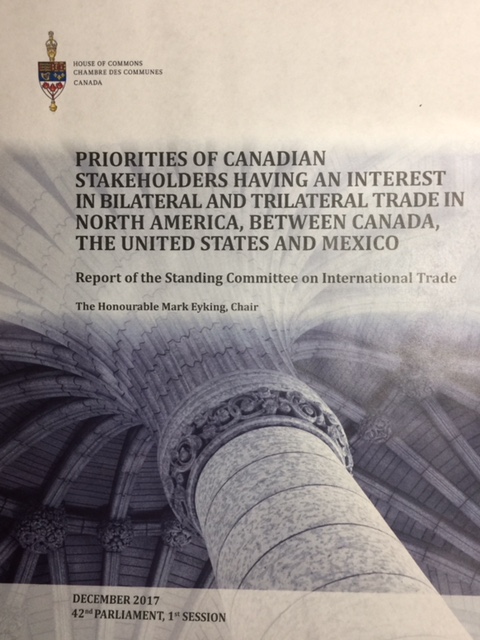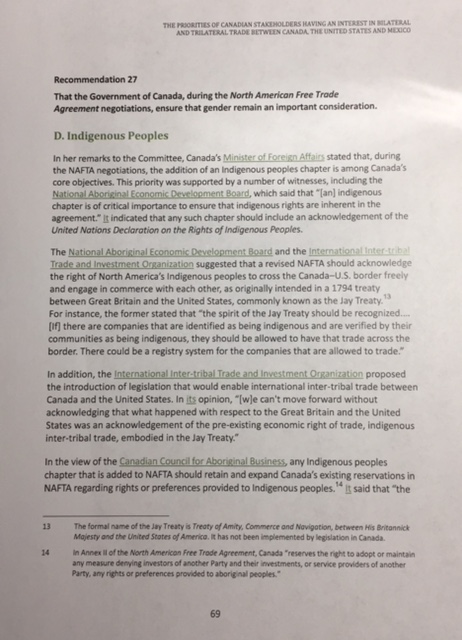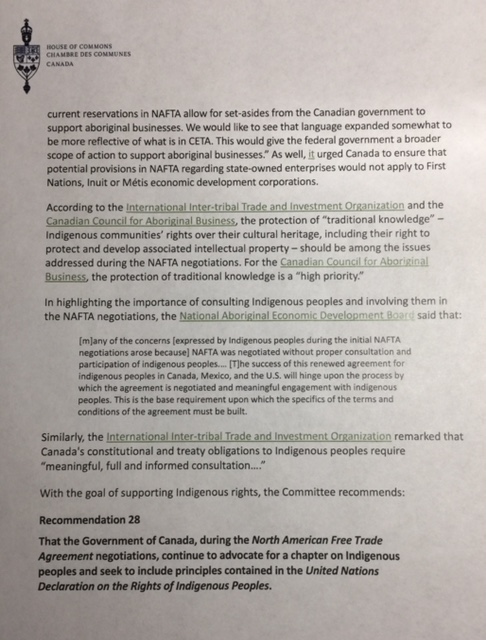 In the final report, the Canadian Parliamentary Standing Committee on Trade supported the submissions of Mr. Garnons-Williams on behalf of IITIO and officially recommended and favorably supported an Indigenous Chapter in a revised NAFTA.  To view the full report click on the link below: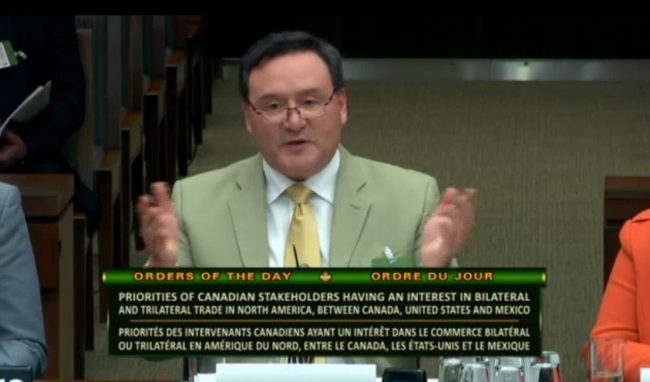 The full text of the initial 5 minute presentation is transcribed below:
Five minute Opening address to the Commons Standing Committee on Trade
Core Message: Enabling legislation for International Intertribal Trade
International Inter-tribal Trade and Investment Organization (IITIO)
– What is IITIO?
IITIO has been in existence for three years; it is a non-profit NGO with Canadian head office in Ottawa, Canada.  Symposiums run every six months and alternate between the U.S and Canada.
Core aspect of IITIO (as found in the terms of reference):
"to apply the group's combined international expertise, passion and experience in addressing tangible issues that can assist in the global flow and exchange of Indigenous goods, services and investments…
"…to facilitate productive discussion, objective research, and effective education with respect to international inter-tribal trade and investment, through seminars, conferences and scholarly papers…
…and to recommend measures, activities and policy/regulatory/legislative proposals (initiatives) that can further the global flow & exchange of indigenous goods & services while respecting its principles…
Respect for the Indigenous teachings …
Respect and preference for environmentally sustainable … practices.
…inform, educate and encourage all parties to adopt these best practices.
Fostering healthy Indigenous communities and more robust and stable Indigenous economies.
Canada, United States and Mexico were countries founded on Trade with and between the original North American Indigenous Peoples.
RCAP – 4 year review – Released 1996 – 8 volumes  4000 pages.
"A vision of a renewed relationship is based on four principles: mutual recognition, mutual respect, sharing, and mutual responsibility. Priorities included: Culture & Economy; Lands & Resources; Economic Development; Institutional Development."
Meaningful, full and informed Consultation is KEY
UNDRIP
Article 19 States shall consult and cooperate in good faith with the indigenous peoples concerned through their own representative institutions in order to obtain their free, prior and informed consent before adopting and implementing legislative or administrative measures that may affect them. (emphasis added)
10 Federal/ Indigenous Relationship Principles July 2017
Meaningful engagement with Indigenous peoples aims to secure their free, prior, and informed consent when Canada proposes to take actions which impact them and their rights on their lands, territories, and resources.
Reconciliation and self-government require a renewed fiscal relationship, developed in collaboration with Indigenous nations, that promotes a mutually supportive climate for economic partnership and resource development.
In previous NAFTA "indigenous peoples were not present at the NAFTA negotiations but Canada, USA & Mexico each inserted specific Language – "non-conforming measures" within NAFTA that exempt specific sectors from operation of NAFTA:
"Aboriginal Affairs" sector – Canada reserves the right to deny investors or "another Party" the rights or preferences provided to "aboriginal peoples" in five areas: national treatment, most favoured-nation treatment, local presence, performance requirements, and senior mgt and brds of directors
Possible NAFTA Indigenous Chapter topics:
Traditional Knowledge; Intellectual Property; Inter-Tribal Trade; Free Passage crossing (Jay Treaty Principles); Market Access; Agriculture; Rules of Origin; Dispute Settlement
Sustainable Development; Inter-tribal/ international investment; Procurement; Financing; Labour/ HR
The Ask from Parliament: Enabling legislation for International Intertribal Trade
Conclusion
Justice Murray Sinclair, Chair
Truth & Reconciliation Commission – Final Report 2015:
Reconciliation calls for federal, provincial, and territorial action.
Reconciliation calls for national action.
The way we govern ourselves must change.
Laws must change.
Policies and programs must change.
The way we do business must change.
Thinking must change.
The way we talk to and about each other must change.
All Canadians must make a firm and lasting commitment to reconciliation to ensure that Canada is a country where our children and grandchildren can thrive and this
reconciliation includes the Federal government recognizing Indigenous Economic Right of Intertribal Trade through the passing Enabling legislation for International Intertribal Trade and supporting the policy of Global Indigenous Trade through including Indigenous consultation on all foreign trade negotiations for the include of Indigenous chapters in trade agreements around the world
reconciliation includes the Federal government recognizing Indigenous Economic Right of Intertribal Trade through the passing Enabling legislation for International Intertribal Trade.