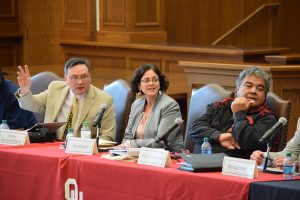 Three-time presenter at our 2016, 2017 and 2018 spring IITIO Conferences, Valerie Devol, knows her way around the US tax codes and her area of practice is Tribal Tax Law. This amazing Indigenous business tax expert will once again join us to share her wisdom on Indigenous business tax planning!  Our spring 2019 IITIO Trade Mission and Conference is set for majestic Oklahoma,  June 2, 3 & 4.  To register and learn more about the spring 2019 IITIO Trade Mission and Conference simply click on the Register button on the IITIO website. http://www.iitio.org
Valerie Devol is a graduate of the University of Oklahoma, where she received a bachelor's degree in business administration.  She has an MBA from the University of Missouri, where she also accomplished a JD as well as a LLM in Taxation.  She has practiced law for twenty years.  Since 2013, Ms. Devol has been the owner and managing partner of Devol and Associates, a full-service boutique law firm, in Edmond, Oklahoma.  Her fields of expertise include business and personal tax law, estate and tax planning, and resolving myriad state and federal tax controversies.  Ms. Devol is also accomplished in tribal, municipal and business development law – for established as well as start-up businesses.  She frequently speaks on issues of taxation and government action, and is a vibrant contributor to Internal Revenue Service and Small Business Association rule-making efforts affecting business regulations.
For more information on Devol & Associates assisting you with various U.S. and International tribal economic development and tribal tax issues click on the law firm's link, http://www.devollaw.com/valerie-devol.html  or speak directly with Valerie at 405-225-2300.