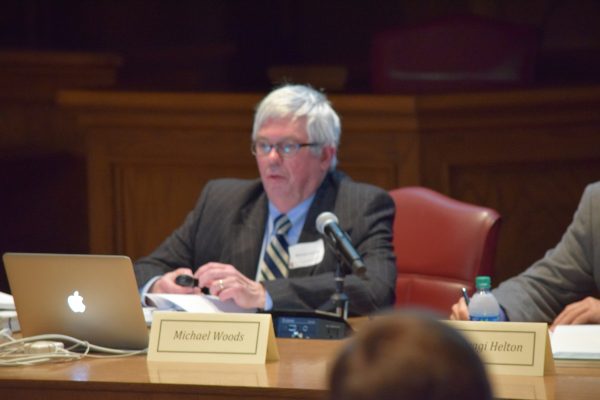 What's Next for the First Nations: New Law, New Options, New Opportunities
Meet Michael Woods – International Trade Lawyer and Partner at Woods Lafortune,  LLP
Mr. Woods presented at the April 22, 2016  University of Oklahoma, Faculty of Law, IITIO symposium on the Investor Status Opportunities for Indigenous people within the North American Free Trade Agreement.
Read Michael's article on this exciting topic:
Michael Woods Presents at Inaugural Conference on International Inter-Tribal Trade
Michael Woods has broad experience in international business with special expertise in all aspects of international trade law. He brings a special "problem-solving" approach to client matters, drawing on a wide range of skills and knowledge in international transactions of all kinds. His practice includes international trade law and cross-border litigation, import and export controls, regulatory law, information technology and knowledge management, government procurement and contracting, and government relations.
Michael began his career in trial litigation and appeared as counsel in several jury trails as well as appeals at the Court of Appeal (Ontario) and the Supreme Court of Canada. He joined Canada's Department of Foreign Affairs and International Trade (DFAIT) in 1981, where he served as a trade lawyer, a trade negotiator as well as diplomat with the Commercial Sections of Canadian Embassies in Saudi Arabia, Algeria, and Korea.
While at DFAIT, he was counsel on a series of landmark NAFTA, WTO, FTA and GATT disputes on matters ranging from vital market access matters to complex subsidy and anti-dumping issues. As a trade negotiator, he played a key role in the key multilateral and bilateral trade negotiations including the WTO Uruguay and Doha Rounds as well as the Canada-USA FTA and NAFTA negotiations.
Michael has well regarded and widely recognized expertise in trade remedies and regulatory matters and has appeared in numerous cases as counsel in anti-dumping, countervailing and subsidy cases before the Canadian International Trade Tribunal (CITT) and the Federal Court of Canada. He also served as lead counsel in two NAFTA Chapter 11 challenges, including the largest case in terms of claimants to date, as well as in arbitrations under Canada's Foreign Investment Protection Agency (FIPA) and the U.S. Bilateral Investment Treaty (BIT). He also has a very active government relations practice focused on international domestic trade.
In 2007, Michael joined the Ottawa office of a leading national law firm as a partner and senior member of the firm's Trade and Competition group. He has developed a global practice and represented clients international and domestic clients at all levels of government in Canada. Leveraging his contacts and experience, Michael played a lead role in putting together private trade missions in several countries including several with former national high profile political leaders.