2018 Fellowship in Comparative and Federal Indian Law – College of Law University of Oklahoma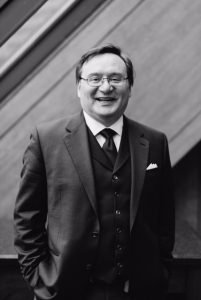 Chair of IITIO, Wayne Garnons-Williams, was awarded the 2018 Fellowship in Comparative and Federal Indian Law at the University of Oklahoma, College of Law. During his studies Wayne will be meeting Oklahoma tribal leaders, research and write on comparative federal Indian law and attend and guest lecture on during the summer course on U.S. Federal Indian Law.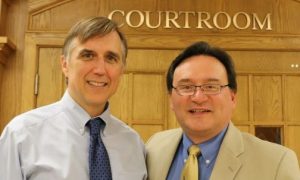 Wayne will be working with professor Lindsay Robertson (above) and professor Taiawagi Helton (below) of the College of law, University of Oklahoma
Professor Lindsay G. Robertson joined the law faculty in 1997.  He teaches courses in Federal Indian Law, Comparative and International Indigenous Peoples Law, Constitutional Law and Legal History and serves as Faculty Director of the Center for the Study of American Indian Law and Policy and Founding Director of the International Human Rights Law Clinic.   Professor Robertson was Private Sector Advisor to the U.S. Department of State delegations to the Working Groups on the U.N. Declaration of the Rights of Indigenous Peoples (2004-06) and the American Declaration on the Rights of Indigenous Peoples (2004-07) and from 2010-12 was a member of the U.S Department of State Advisory Committee on International Law.  In 2014, he served as advisor on indigenous peoples law to the Chair of the U.N. Committee on the Elimination of Racial Discrimination.  He has spoken widely on international and comparative indigenous peoples law issues in the United States, Europe, Latin America and Asia.  In 2014, he was the recipient of the first David L. Boren Award for Outstanding Global Engagement.  He is an elected member of the American Law Institute and serves as a justice on the Supreme Court of the Cheyenne and Arapaho Tribes.  Professor Robertson is the author of Conquest by Law (Oxford University Press 2005).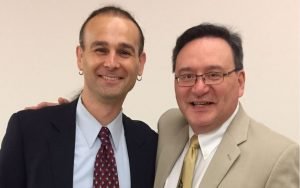 Professor Taiawagi Helton of the College of law, University of Oklahoma with Wayne Garnons-Williams
In 2001 Professor Taiawagi Helton joined the faculty of the University of Oklahoma College of Law, where he teaches environmental law, property law, and Indian law.  His research emphasizes environmental and natural resources issues relating to Native Americans, as well as nation building in Indian country. Professor Helton began his legal career as a clerk for the Honorable Robert H. Henry, U.S. Court of Appeals for the Tenth Circuit.  He has served as a Special Justice for the Cheyenne and Arapaho Tribes Supreme Court (2004-2008) and as a member of the Board of Directors of Oklahoma Indian Legal Services. In 2012, Professor Helton received the O.U. Regents' Award for Superior Teaching, the University's highest award for teaching excellence. Professor Helton earned his Master of Laws degree from Yale Law School in 2001.  In 1999 he received a juris doctor degree with highest honors from the University of Tulsa College of Law, where he served as Editor-in-Chief of the Tulsa Law Journal and earned membership in the Order of the Curule Chair.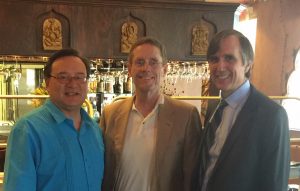 University of Oklahoma Adjunct Professor in Indigenous Economic Development, Dr. James Collard with Wayne and Professor Lindsay Robertson
This summer Wayne brings to the law school his 26 years of practice experience and masters degrees and his successful leadership from various fields including Court Administration, Advocacy, litigation and the development of international Indigenous trade through IITIO, which led to the only submission to the government of Canada which pioneered the concept of the Indigenous Trade Chapter for use in international trade agreements.  Wayne is Plains Cree from Treaty 6, Moosomin First Nation, the founding President of International Inter-tribal Trade Organization, Senior Lawyer and Principal Director of the law firm Garwill Law Professional Corporation specializing in Tribal Trade and Economic Development, as well as member and past Chair of the Federation of Saskatchewan Indian Nations Appeal Tribunal. He is a board member of the International Council of the Great Lakes Region a board member of Capacity Canada and a board member of Three Feather Corporation.   He is appointed by Order in Council as a member to the NAFTA Chapter 19 Trade Remedies roster. He is also a legal commentator providing Indigenous law insight and commentary for the Aboriginal Peoples Television Network.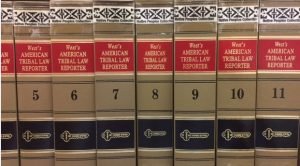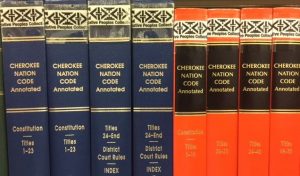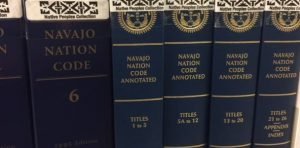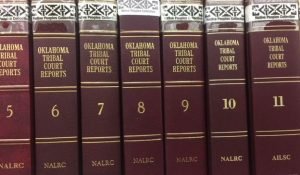 Wayne will be conducting legal research and writing into the areas if traditional knowledge and Intellectual property as well as how global Indigenous trade plays a role in helping nation-states meet their United Nations Sustainable Development Goals for the year 2030.  We wish Wayne every success in his research and writing during his 2018 fellowship.