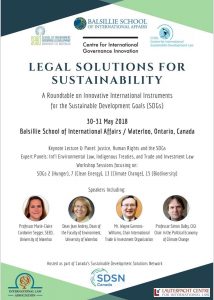 Chair of IITIO Wayne Garnons-Williams was honored with the role of Legal Expert Intervenor on an international round-table on Legal Solutions for Sustainability hosted by the Centre for International Sustainable Development Law at the Balsillie School of International Affairs, May 30-31, 2018.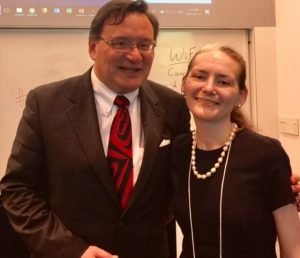 Dr. Alexandra Harrington and Wayne Garnons-Williams
Professor Marie-Claire Cordonier-Segger, School of Environment Enterprise and Development (SEED), University of Waterloo and Fellow in the University of Cambridge and Senior Director of the Centre for International Sustainable Development Law (CISDL), and Dr. Alexandra Harrington, Lead Counsel, Peace, Justice and Governance, Member at Large, Board of Governors, Centre for International Sustainable Development Law (CISDL), Professor, University of Albany School of Law, and affiliated faculty at the Global Institute for Health and Human Rights and Lead Counsel for the Peace Justice and Accountability Programme at the Centre for International Sustainable Development Law and Fulbright Canada Research Chair in Global Governance at The Balsillie School of International Law, said the following during their Conference opening statements:
"Since the concept of sustainable development became part of international law and policy at the United Nations Conference on the Environment and Development (UNCED) in 1992, the number of treaties attempting to find international solutions to sustainable development challenges has increased exponentially. Accordingly, over the last 25 years, sustainable development has become an essential part – explicitly and implicitly – of the negotiation, interpretation and implementation of international treaty law. It has been included as part of the object and purpose of global treaties ranging from climate change, to biodiversity, to human rights, to trade and investment. Likewise, contemporary sustainable development provisions address intersecting – and increasingly integrated – environmental, economic and social justice policies and concerns."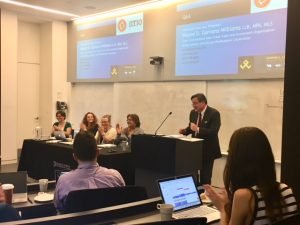 The Roundtable was an international exchange for knowledge about recent innovations in the negotiation, interpretation and enforcement of international treaties relating to sustainable development. Experts and scholars from around the world shared their data and perspectives from the fields of law, international relations, economics and social and natural sciences, while also engaging specialists from the public sector, private sector and civil society.
The two-day event was a series of expert panels on sustainable development solutions in international environmental law, Indigenous treaties, and trade and investment law, as well as breakout sessions to discuss innovations in the use of international law for SDG implementation, particularly SDGs 2 (hunger), 7 (clean energy), 13 (climate change) and 15 (biodiversity).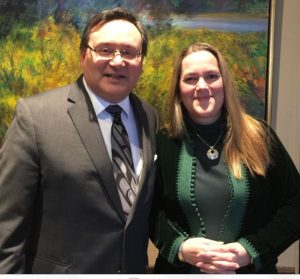 Professor Marie-Claire Cordonier-Segger and Wayne Garnons-Williams