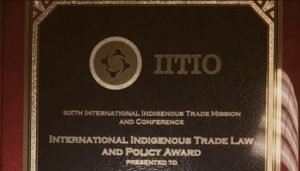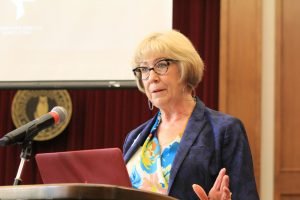 Oklahoma Supreme Court Chief Justice Noma Gurich presenting the International Indigenous Trade Law and Policy Award to Robert Brookfield
In the fabulous Bell Courtroom of the College of Law, University of Oklahoma on the second day of the 6th Indigenous Trade Mission and Conference, the inaugural International Indigenous Trade Law & Policy Award was presented by Oklahoma Supreme Court Chief Justice Noma Gurich to Robert Brookfield, Deputy Legal Advisor & Director General, Trade Law Bureau, Global Affairs Canada.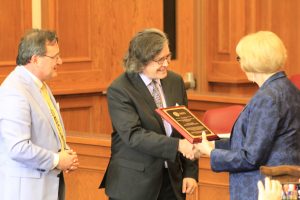 Robert Brookfield being presented with the International Indigenous Trade Law & Policy Award from Oklahoma Supreme Court Chief Justice Noma Gurich and Wayne Garnons-Williams, Chair International Inter-tribal Trade and Investment Organization 
The International Inter-Tribal Trade and Investment Organization (IITIO) Award recognizes any single or combination of the following achievements and contributions with respect to the growth, study, awareness, promotion and/or support of Indigenous trade and investment in the international context:
Leadership in the private sector, government, and/or academia in relation to the development, promotion, and/or study of elements related Indigenous trade and investment in the international context.
Proven skills and expertise in the field of indigenous trade and investment including the provision of services, in the areas of entrepreneurship, promotion, advocacy, research, scholarship, negotiation, alternative dispute resolution, ;
Contributes with the highest degrees of professionalism, integrity and civility;
Significant contributions in the area of education or professional development;
Contribution to Indigenous trade and investment through pro bono activities, or other projects or initiatives;
Leadership in the through the sharing of knowledge, experience, skill, commitment, and by acting as a role model and mentor to young Indigenous professionals and to his or her peers; and/ or
Enhancing the growth of Indigenous trade and investment at the local, national, and/or international level.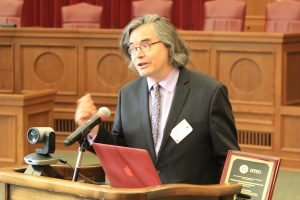 Robert was instrumental in breathing life and meaning into Canada's Inclusive Trade Agenda for use in negotiations with the new NAFTA  (USMCA/ CUSMA) as well as Canada's global negotiation position on inclusive trade involving indigenous international trade.
As the lead legal counsel on CUSMA/USMCA (the new NAFTA), Robert was instrumental in advocating Canada's position on protections for Indigenous rights in the Agreement.  It has been reported by various sources that when internal and external forces were against including Indigenous people into the inclusive trade agenda, Robert used his finely honed advocacy skills and vast international law knowledge to turn skeptics into believers for an Indigenous Trade Chapter and for an Indigenous protection clause.   Robert was also a key resource for other Canadian negotiators regarding Indigenous legal issues and constitutional protections.
His colleagues who work with Robert appreciate his insights into various aspects of international law combined with good humour, a helpful collaborative approach, and the willingness to encourage staff and trade negotiation teams to think creatively and consider new approaches to old international trade law and policy problems.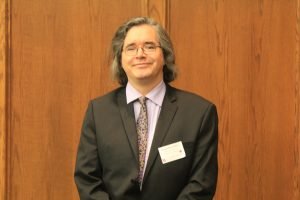 Robert Brookfield is Director General, Trade Law Bureau, Government of Canada, a joint unit Global Affairs Canada and Justice Canada.  In that capacity he is responsible for overseeing the approximately 70 counsel and other staff that provide legal advice, negotiations support, and conduct litigation for the Government of Canada in international trade and investment law issues.  He directly leads the legal team and the "legal and institutional" table that concluded the "Canada-US-Mexico Agreement" (formerly known as NAFTA) and led on legal review and implementation in Canada of that Agreement.
Robert joined the federal public service in 2000.  He has served in various positions in the Trade Law Bureau, where among other tasks he was lead lawyer for Canada in number of free trade agreement negotiations, and acted for Canada in several cases before the World Trade Organization.  In addition, he served in DFATD in the unit dealing with issues such as sanctions and freezing terrorist assets; in the Canadian Embassy in Moscow, where he coordinated Canadian programming for projects seeking to counter the spread of weapons and materials of mass destruction; and as Director of the Technical Barriers and Regulations Division, where among other tasks he led negotiations on elements of the free trade agreements with the EU and Korea, and the Trans-Pacific Partnership agreement.
Before joining the federal government, he worked as a litigator on a variety of files for 5 years at the law firm of Davis & Company, Vancouver.  He has a L.L.B from the University of British Columbia (1995) and a BArtsSc from McMaster University (1992).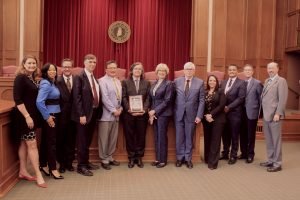 Robert Brookfield flanked by Chief Justice Noma Gurich, Wayne Garnons-Williams, Chair International Inter-tribal Trade and Investment Organization and the executive members of IITIO (Jonna Kauger Kirschner, Gena Timberman, Scott Freeny, Dr. Lindsay Robertson, Mr. Michael Woods, Kaycie Sheppard, Dr. Robert Joseph, Dr. Jim Collard and Law Dean Bradford W. Morse)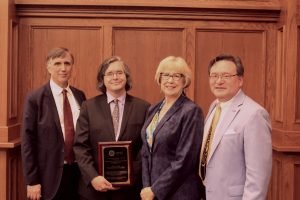 Robert Brookfield flanked by Oklahoma Supreme Court Chief Justice Noma Gurich, Dr. Lindsay Robertson (on behalf of the
Dean of Law, College of Law University of Oklahoma ) and Wayne Garnons-Williams, Chair International Inter-tribal Trade and Investment Organization