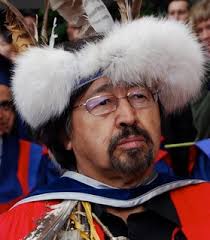 Thompson Rivers University, Faculty of Law and the International Inter-tribal Trade and Investment Organization (IITIO) is pleased to have as Indigenous Host representative Chief Ronald Ignace PhD.  As well as his host duties, Chief Dr. Ignace will be presenting on a tribal trade panel concerning opportunities for growth in Inter-tribal trade.
Chief Dr. Ronald E. Ignace is the son of Lizzy Ignace from Skeetchestn and Francis Jules from Tk'wmlups. He was raised in Skeetchestn  in the Secwepemc language by his great-grandparents Julienne (Sulyen) and Edward Eneas. He is a survivor of the Kamloops Indian Residential School.
He has been the elected Chief of the Skeetchestn Band for more than 26 years since the early 1980s, and also served as Chairman of the Shuswap Nation Tribal Council and president of the Secwepemc Cultural Education Society during the late 1980s and 1990s. For many years he was the co-chair of the Aboriginal university partnership between the Secwepemc and Simon Fraser University in Kamloops, B. C., and occasionally continues to teach courses in Secwepemc Language  and First Nations Studies through SFU. He holds B.A. and M.A. Degrees in Sociology from the University of British Columbia, and completed his PhD in Anthropology at Simon Fraser University in 2008 with a dissertation titled Our Oral Histories are Our Iron Posts: Secwepemc Stories and Historical Consciousness. 
Having more than sixty years of practical experience in Secwepemc traditional food harvesting and having learned these skills from his own elders who shared their stories and teachings in the Secwepemc language with him, Ron has published, and co-published with his wife Marianne Ignace, several articles and book chapters on Secwepemc history, ethnobotany, language and culture. Ron was instrumental in establishing the AFN's National Chiefs' Committee on Language and Culture (1999-2003) and was called upon to chair the Task Force on Aboriginal Languages and Cultures appointed by the Federal Minister of Cultural and Heritage (2003-2005).
He represented the AFN at the United Nations from 1989-1993. Throughout his many terms of office as chief of the Skeetchestn Band, supported by his band council and the community, he was able to settle two large specific claims which provided funds for buying more than a thousand acres of ranch land and grazing leases in Deadman Creek Valley and surrounding areas. In conjunction with the establishment of a three million dollar trust for the band, Ron has been a leader in advancing the economic development of the band through various companies, and has implemented a well-functioning housing program on reserve. Ron has above all maintained the vision of seeking justice and reconciliation on the issues of Secwepemc land title and rights, such as the Six Mile case leading to a settlement, and other cases that are ongoing.