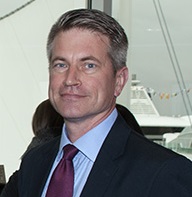 Thompson Rivers University, Faculty of Law and the International Inter-tribal Trade and Investment Organization are proud to welcome Mr. Christian Hansen, Regional Director and Senior Trade Commissioner to the first Canadian International Inter-tribal Trade Conference this November 11 and 12 at the law school in Kamloops, BC.  Regional Director Hansen will be speaking on the topic entitled "Reaching Out, Partnership & Government, Tools & Trade Missions".
Christian Hansen became a Canadian Foreign Service officer in 1995 and has served in Ottawa, Osaka, Oslo, Vancouver, and at Canada's Mission to the European Union in Brussels.  He holds a Bachelor of Commerce (Finance) from the University of British Columbia and Master of Public Policy (International Relations) from Princeton.  His academic interests include border management, transportation security, and trade facilitation.
Christian is the Regional Director and Senior Trade Commissioner at the Pacific Regional Office of Global Affairs Canada.  In this role he leads a team of 17 Trade Commissioners in supporting the international business of clients in British Columbia and Yukon.  He speaks Japanese, French and some Norwegian.