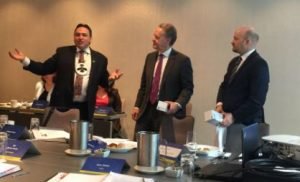 Briefing from Canadian Chief Negotiator, Steve Verheul, during the NAFTA Montreal Round 6 negotiations regarding the progress on Indigenous Trade Chapter.
Janaury 22 – 24, 2018 – Montreal NAFTA Round 6
The Chair of the International Inter-tribal Trade and Investment Organization (IITIO), Wayne Garnons-Williams, presented to the Assembly of First Nations Regional Chiefs Committee on Economic Development regarding collaborative efforts made between IITIO, Global Affairs, AFN and approximately 50 Treaty holders, Indigenous rights holder organizations amd stakeholder organizations from across Canada as well as plans for Indigenous Trade Mission to Oklahoma (June 3, 4 & 5) during the NAFTA round 6 negotiation in Montreal.
As a result of IITIO's submissions for a revised NAFTA and specifically IITIO's recommendation (number two our IITIO's July submissions: "Recognition of the right of Indigenous Peoples to participate in decision making in the NAFTA renegotiation process"), National Chief Perry Bellegarde was approached to participate on Canada's NAFTA Council to advise the Canadian Minister of Foreign Affairs directly throughout the NAFTA negotiations. This is the first time a national Indigenous leaders has been asked by Canada to participate in international trade agreements and sets an important precedent.
As the latest round of North American Free Trade Agreement (NAFTA) talks begin in Montreal, Assembly of First Nations (AFN) National Chief Perry Bellegarde and a delegation of First Nations leaders, including IITIO Chair Wayne Garnons-Williams and members of the AFN Chiefs Committee on Economic Development, met in Montreal to show support for the Indigenous Trade Chapter that is being introduced today at the negotiating table.
AFN National Chief stated: "It is essential that our rights, our peoples and our traditional territories are recognized, respected and honoured in these discussions," said AFN National Chief Bellegarde. "The legal landscape on Indigenous rights has changed significantly since NAFTA was first negotiated, including the adoption of the United Nations Declaration on the Rights of Indigenous Peoples. This reality has to inform the NAFTA negotiations and any outcomes. We are here to reinforce to all parties that they endorsed the UN Declaration, and to remind Canada that regardless of the outcome, they have constitutional obligations to Indigenous peoples."
Wayne Garnons-Williams was invited by the National Chief, to meet and present to AFN Chiefs Committee on Economic Development to discuss the importance of trade to First Nations economic growth, inter-tribal trade and economic reconciliation.
Regional Chief Teegee, the current chair of the AFN Economic Development Committee stated, "Our involvement in NAFTA sets an important precedent for any future discussions of this kind. Indigenous peoples and rights are becoming a new area of discussions in national and international trade negotiations, and Canada is putting itself at the forefront of this work. This is a positive approach, and our involvement will lead to a better outcome for First Nations and all Canadians."
AFN Annual General Assembly resolution #32/2017, First Nations Trade Relations, provides direction to the AFN, affirms First Nations inherent right to trade, and mandates efforts to advocate for First Nations economic growth and the development of options to secure greater economic independence.