On July 14, 2017 IITIO filed submissions with Global Affairs concerning, among other things, Indigenous representation in trade negotiations and the development of an Indigenous Chapter within a revised NAFTA.
Out of 2500 submissions on suggested topics for re-opening NAFTA, IITIO's was the only Indigenous trade submission.  Since the re-opening of NAFTA on or about late July, IITIO has been provided with weekly briefings by senior Global affairs staff.  In July 2017 Global Affairs, led by Danielle Belanger, Director, Partnerships and Coordination, Economic Policy Development (now retired) formed the Global Affairs Indigenous Chapter Working Group (GAICWG) in which IITIO played a founding role with Global Affairs.  The Global Affairs Indigenous Chapter Working Group (GAICWG) was tasked with hammering out the details of what content would go into the Indigenous Chapter, how best to ensure that all interests will be accommodated, and how Indigenous rights will not be eroded.  IITIO has been involved in the development and shaping of the Indigenous Chapter.
September 14, 2017, Lindsay Robertson (IITIO Executive) obtained a letter of support for the NAFTA Indigenous Chapter from Jacqueline Pata, Executive Director, National Congress of American Indians.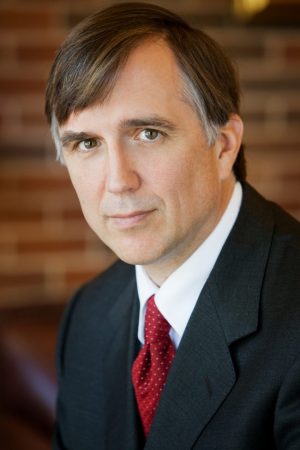 On October 10, 2017, Michael Woods secured the written support of an Indigenous Chapter in a renegotiated NAFTA from James Hopkins, Pro Bono Counsel, on behalf of the Rio Yaqui Pueblos, of Senora Mexico.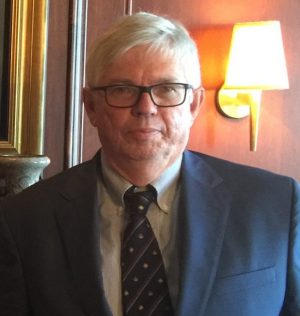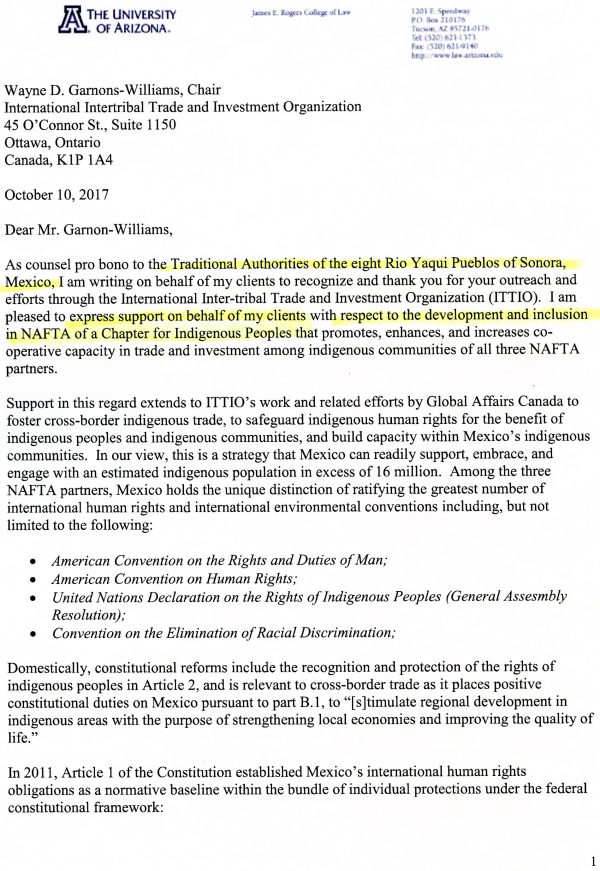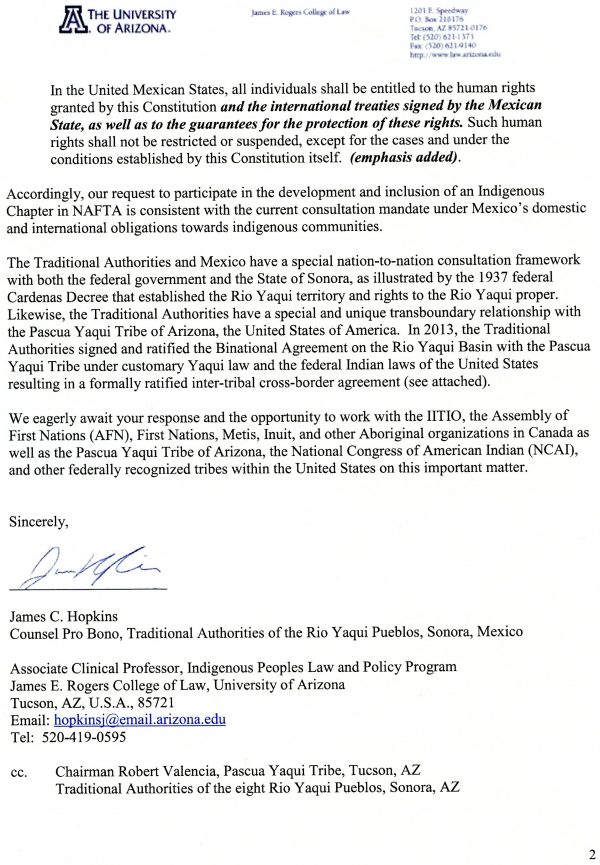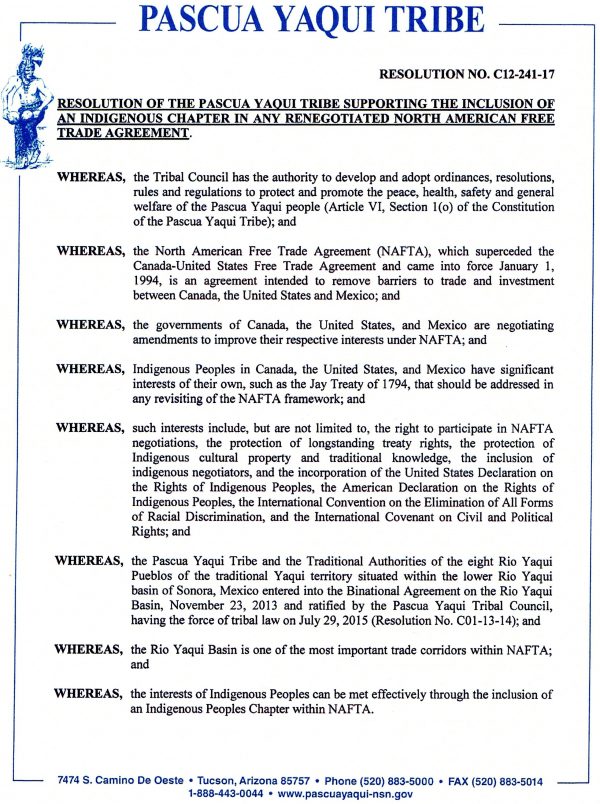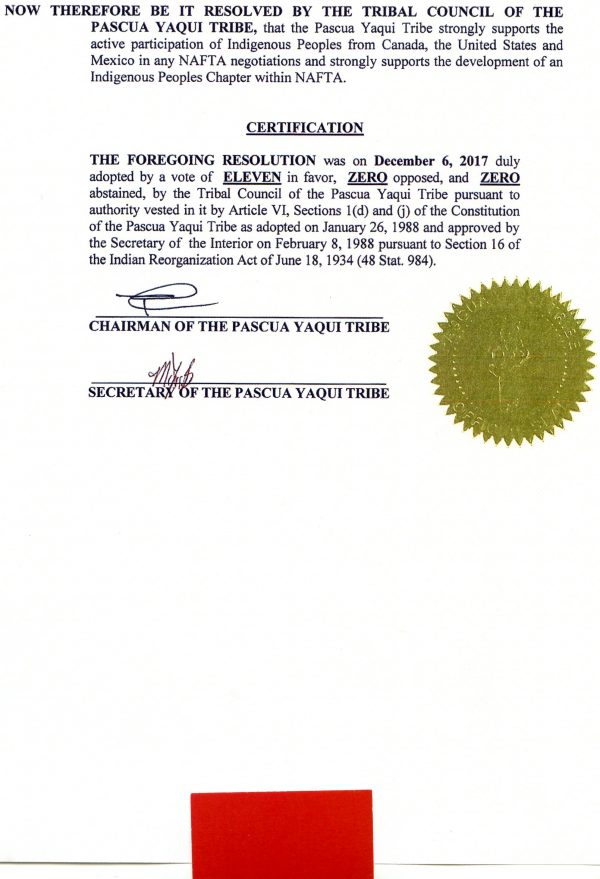 On October 16, 2017, Professor Lindsay Robertson attended the Annual General Meeting of the National Congress of American Indians of the United States in Milwaukee, Wisconsin, where Lindsay led a discussion on NAFTA and the inclusion of an Indigenous Chapter.  Professor Robertson presented on International Indigenous trade law which helped draft the Resolution in support of an Indigenous Chapter in NAFTA which was passed that day and led to the issuance of the November 1st letter from NCAI President Jefferson Keel to Robert Lightizer, Senior U.S. Trade Representative.
http://www.ncai.org/news/articles/2017/10/18/national-congress-of-american-indians-ncai-joins-assembly-of-first-nations-afn-in-calling-for-the-development-of-a-north-american-free-trade-agreement-nafta-indigenous-chapter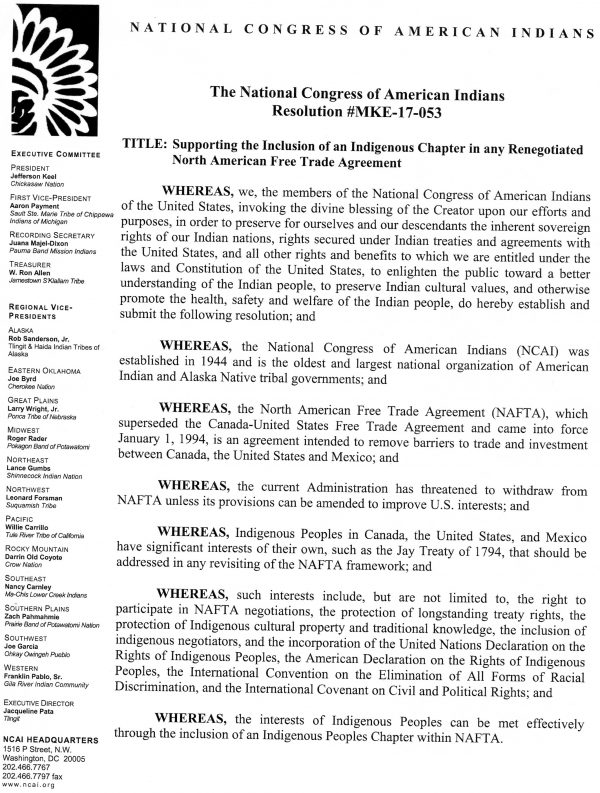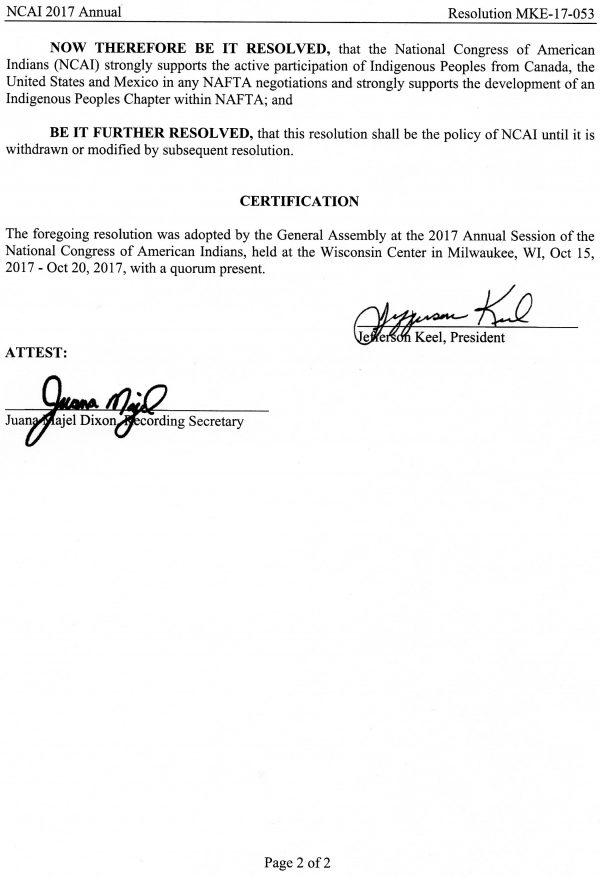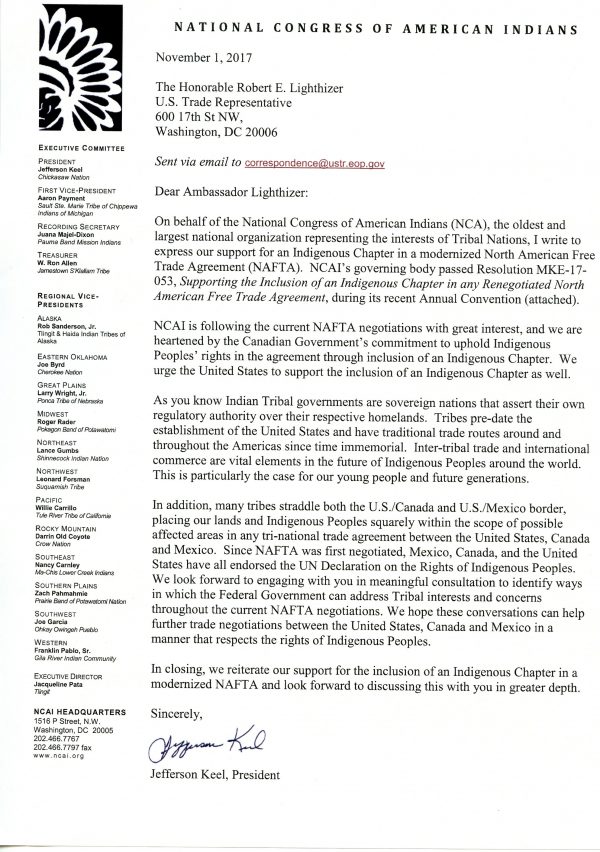 On October 20, 2017, Law Dean Bradford W. Morse (IITIO Executive member) obtained endorsement from his fellow Law Deans of a Statement of Support for an Indigenous Chapter in a Renegotiated and Modernized North American Free Trade Agreement.  (see document below)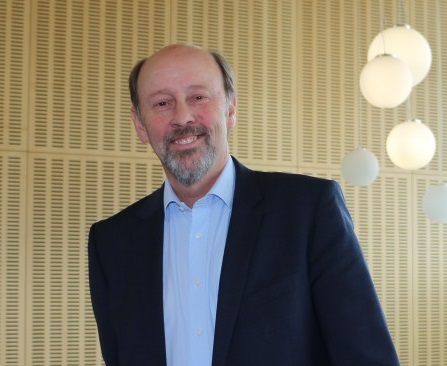 In the end the Indigenous Chapter was a true collaborative product that the GAICWG could hand off to the Canadian NAFTA negotiating team. Proof of the success of this collaboration was the fact that while there was initial reluctance and a lack of understanding on the part of the trade negotiation teams of Mexico and the USA, after discussion and presentation of the GAICWG's work, the US and Mexico negotiation teams agreed to sit down to negotiate content based on the Indigenous Chapter.
Statement of Support for an Indigenous Chapter in a Renegotiated and Modernized North American Free Trade Agreement
The territory we call Canada is made up of land originally occupied solely by its First Peoples, who have treaty rights or claims over vast portions of that land.  It is submitted that the Government of Canada does not have the right to act unilaterally to affect Indigenous Peoples. It has no such right in law. The Crown has a history of neglect and failure to provide even rudimentary consultation in accordance with the standards set out by the Supreme Court of Canada (SCC).
A modern trade and investment treaty touches the most basic elements of sovereignty. In the context of both broad and specific effects of a free trade agreement in relation to the life of any nation, its peoples, and its principle sovereign rights, the matter of the effect on Indigenous Peoples is one that is both appreciable and non-speculative.
If the Government of Canada's commitment to a Nation-to-Nation relationship is to be considered credible, any future international trade negotiations must include a place at the table for Indigenous Peoples as a full partner.
The renegotiation of NAFTA offers a unique opportunity to better align international trade and investment with international Indigenous and human rights law. The adoption of the United Nations Declaration on the Rights of Indigenous Peoples (UNDRIP) in 2007, and the more recent reaffirmation of Indigenous rights by the American Declaration on the Rights of Indigenous Peoples (ADRIP) in 2016, lends international support for participation of Indigenous peoples in the negotiation of international agreements that impact their rights. This is consistent with both international law and current Canadian domestic policy for Indigenous rights.
As recently as July 7, 2017 the Government of Canada, through Minister of Justice Jody Wilson-Raybould, published a Statement of Principles guiding the Government's efforts to hasten the process of decolonization through Canadian law and policy, entitled Principles Respecting the Government of Canada's Relationship with Indigenous Peoples. [1]  While the entire Statement of Principles is worthy of reference, certain passages in the preamble are of particular pertinence:
…Indigenous perspectives and rights must be incorporated in all aspects of this relationship.
These Principles are to be read holistically and with their supporting commentary.
These Principles are a necessary starting point for the Crown to engage in partnership…
The work of shifting to, and implementing, recognition-based relationships is a process that will take dynamic and innovative action by the federal government and Indigenous peoples. These Principles are a step to building meaning into a renewed relationship.
Principles 6 (six) and 8 (eight) of the federal statement of Principles Respecting the Government of Canada's Relationship with Indigenous Peoples[2] are instructive:
The Government of Canada recognizes that meaningful engagement with Indigenous peoples aims to secure their free, prior, and informed consent when Canada proposes to take actions which impact them and their rights, including their lands, territories and resources.
The Government of Canada recognizes that reconciliation and self-government require a renewed fiscal relationship, developed in collaboration with Indigenous nations, that promotes a mutually supportive climate for economic partnership and resource development.
Principle 6 (six) of the Statement[3] is supported by explanatory notes, which are again very informative in providing guidance for implementation:
This Principle acknowledges the Government of Canada's commitment to new nation-to-nation, government-to-government, and Inuit-Crown relationships that builds on and goes beyond the legal duty to consult. In delivering on this commitment, the Government recognizes the right of Indigenous peoples to participate in decision-making in matters that affect their rights through their own representative institutions and the need to consult and cooperate in good faith with the aim of securing their free, prior, and informed consent… (emphasis added)
The importance of free, prior, and informed consent, as identified in the UN Declaration, extends beyond title lands. To this end, the Government of Canada will look for opportunities to build processes and approaches aimed at securing consent, as well as creative and innovative mechanisms that will help build deeper collaboration, consensus, and new ways of working together. It will ensure that Indigenous peoples and their governments have a role in public decision-making as part of Canada's constitutional framework and ensure that Indigenous rights, interests, and aspirations are recognized in decision-making. (emphasis added)
As well, the mandate letters of both the Minister of Foreign Affairs and the Minister of International Trade have the following instruction from Prime Minister Justin Trudeau: "No relationship is more important to me and to Canada than the one with Indigenous peoples. It is time for a renewed, nation-to-nation relationship with Indigenous peoples, based on recognition of rights, respect, co‑operation, and partnership."[4]
Justice Minister Jody Wilson-Raybould also stated, on behalf of the Government of Canada at the Assembly of First Nations Annual General Meeting in Niagara Falls in July 2016, that the Liberal Government policy is to anticipate how Aboriginal and Treaty Rights will eventually be articulated by the Supreme Court of Canada so as to act accordingly, by establishing policies that "fill the section 35 rights box" in advance of slow and expensive Indigenous rights decisions from the SCC. We submit that the Indigenous economic right to engage in trade is one of those anticipatory rights to go into the section 35 box. Accordingly, at a minimum, Indigenous people need to be consulted, but above all, they need to be involved in the NAFTA trade negotiations.
In addition to our general comments, we submit these specific recommendations:
Development in NAFTA of a Chapter specifically related to Indigenous Peoples that promotes and enhances co-operation in trade and investment among Indigenous Nations in all three NAFTA partners.
We recommend that the NAFTA Indigenous Peoples' Chapter should retain all the exceptions currently in NAFTA to preserve any preferences provided to Indigenous peoples. A revised NAFTA should contain stronger exceptions (reservations) that are more proactive in effectively protecting Aboriginal rights, treaty rights and Aboriginal title interests in their traditional territories. Language included by New Zealand in Article 29 of the proposed Trans‑Pacific Partnership provides an excellent precedent stating:
     Article 29.6: Treaty of Waitangi
Provided that such measures are not used as a means of arbitrary or unjustified discrimination against persons of the other Parties or as a disguised restriction on trade in goods, trade in services and investment, nothing in this Agreement shall preclude the adoption by New Zealand of measures it deems necessary to accord more favourable treatment to Maori in respect of matters covered by this Agreement, including in fulfilment of its obligations under the Treaty of Waitangi.
The Parties agree that the interpretation of the Treaty of Waitangi, including as to the nature of the rights and obligations arising under it, shall not be subject to the dispute settlement provisions of this Agreement. Chapter 28 (Dispute Settlement) shall otherwise apply to this Article. A panel established under Article 28.7 (Establishment of a Panel) may be requested to determine only whether any measure referred to in paragraph 1 is inconsistent with a Party's rights under this Agreement.
Inclusion of a NAFTA Indigenous Peoples' Chapter that would work along the lines of these sections of the draft Trans-Pacific Partnership, but that would reference s. 35 of Canada's Constitution Act, 1982, the SCC's articulated duty on the Crown to consult and accommodate Indigenous concerns, and to recognize Aboriginal Title as part of the common law as it stands in Canada.
Inclusion of provisions that allow for the freer movement across the Canada/US border of Indigenous Peoples, and of goods traded by Indigenous Peoples, consistent with the Treaty of Amity, Commerce, and Navigation, also known as the Jay Treaty, entered into by the United States and Great Britain on November 19, 1794.
Inclusion of provisions in the NAFTA Indigenous Peoples' Chapter that would provide greater protection to Indigenous cultural property and traditional knowledge.
Application of the principle of large and liberal interpretation. In accordance with accepted case law in both Canada and the USA, conflicting interpretations of treaty provisions between national governments and Indigenous peoples shall receive a large and liberal interpretation in favour of the Indigenous party to the treaty. This principle should be applied in interpreting provisions in a revised NAFTA when determining the rights and obligations of the parties.
Dated: October 20, 2017
This Statement has been endorsed by the following:
Professor Bradford W. Morse, Dean of Law, Thompson Rivers University
Professor Bill Flanagan, Dean of Law, Queen's University
Professor Jeremy Webber, Dean of Law, University of Victoria
Professor Myra Tawfik, Acting Dean of Law, University of Windsor
Professor Angelique EagleWoman, Dean of Law, Lakehead University
[1] Justice Minister Jody Wilson-Raybould.  Principles Respecting the Government of Canada's Relationship with Indigenous Peoples. July 7, 2017. Government of Canada Department of Justice, "Canada's System of Justice." http://www.justice.gc.ca/eng/csj-sjc/principles-principes.html
[2]     Justice Minister Jody Wilson-Raybould.  Principles Respecting the Government of Canada's Relationship with Indigenous Peoples. July 7, 2017. Government of Canada Department of Justice, "Canada's System of Justice." http://www.justice.gc.ca/eng/csj-sjc/principles-principes.html  
[3] Principles respecting the Government of Canada's relationship with Indigenous peoples   http://www.justice.gc.ca/eng/csj-sjc/principles-principes.html
[4]   Mandate Letter, The Right Honourable Justin Trudeau to Foreign Affairs Minister Chrystia Freeland:  http://pm.gc.ca/eng/minister-foreign-affairs-mandate-letter