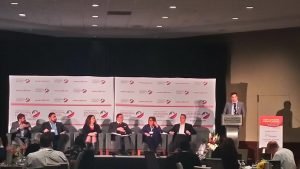 The Canadian Council of Aboriginal Business (CCAB) asked Wayne Garnons-Williams, Chair of IITIO, to join its March 8, 2018 webinar panel discussing First Nations Economic Advancement and Global Trade.
Also on the panel were Michael Fox, Sara Mainville, Sam Damm, Nathan Wright, Risa Schwartz and Max Skudra.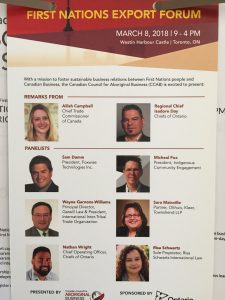 This business skills development webinar was a live streamed panel discussion on First Nations Economic Advancement and Global Trade from the First Nations perspective. This online discussion provided participants the opportunity to engage the panel as they discussed the following topics:
Experiences, successes and obstacles to export and trade globally
Motivations for entering the global market
Unique experiences for Aboriginal persons in trade
Tools and resources that were helpful in entering and operating in global markets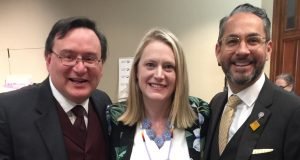 IITIO Chair, Wayne Garnons-Williams with Allish Campbell, Chief Trade Commissioner, Global Affairs Canada and JP Gladu, President CCAB
It is to be noted that on behalf of IITIO, Wayne also covered the history of Indigenous trade, the modern treaty, and the international treaty environment. The discussion  included how the renegotiation of NAFTA could impact Aboriginal businesses, the effect on inter-tribal trade, and the importance of creating trade regimes that work for First Nation peoples.  Wayne included practical and contextual concepts within the lively and informative discussion.