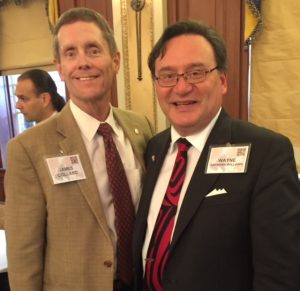 Chair of IITIO Wayne Garnons-Williams, together with Dr. Jim Colllard, Director of Business Development, Citizen Potawatomi Nation, co-moderated the Tribal Business/Trade Panel addressing Indigenous economic development at the Oklahoma Supreme Court Sovereignty Symposium on June 6 and 7, 2018.

Various issues were examined in the panel which included CHRIS BENGE, (Cherokee), Chief of Staff to Governor Mary Fallin, Oklahoma Secretary of Native American Affairs BILL G. LANCE, JR. Secretary of Commerce, Chickasaw Nation Intertribal Trade and Investment Organization DAVID NIMMO, Chief Executive Officer/President, Chickasaw Nation Industries TAMMYE GWIN,(Choctaw), Executive Director of Business & Economic Development, Choctaw Nation Division of Commerce KYLE DEAN, Assistant Professor of Economics, Director of Center for Native American & Urban Studies, Oklahoma City University NATALIE SHIRLEY, President and CEO, National Cowboy and Western Heritage Museum JONNA KAUGER KIRSCHNER, Senior Vice President of Economic Development, Chickasaw Nation Industries and AMY GOUDAR, Foreign Policy and Diplomacy Service Officer, Global Affairs Canada, Dallas.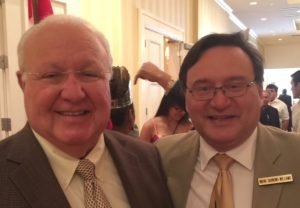 Chairman John "Rocky" Barrett, leader of the Citizen Potawatomi Nation, discussing Iron Horse Industrial Park – Foreign Trade Zone in CPN Tribal Territory. A true economic magnet for Indigenous international trade.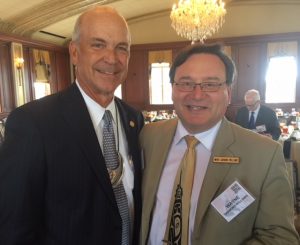 Wayne Garnons-Williams meeting up with the Chief Justice of the Oklahoma Supreme Court, Chief Justice Douglas Combs (of the Muskogee Creek Nation) to discuss the legal, political and administrative aspects of Tribal Economic Sovereignty and Inter-Tribal Trade.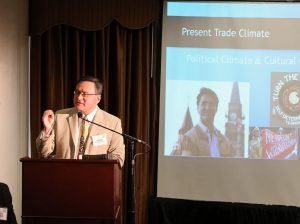 Presenting on the Indigenous Trade Chapter as a global tool to help the world meet UN Sustainable Development Goals at the Oklahoma Supreme Court Sovereignty Symposium.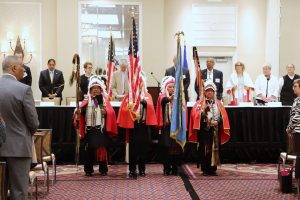 Last day of The Oklahoma Supreme Court Sovereignty Symposium, with the amazing Dr. Jim Collard co-facilitating on Indigenous Economic and International Intertribal Trade. Sharing IITIO's July 2017 unique submissions for Indigenous Trade Chapter in NAFTA and our involvement inthe appointment of Perry Bellegarde to the NAFTA Council.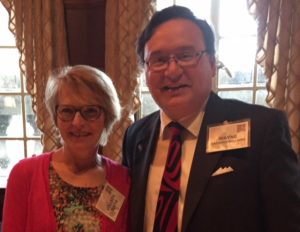 Attending the Oklahoma Supreme Court Sovereignty Symposium lunch presentation for State, Federal and Tribal Judiciary, where Wayne was able to meet fellow Canadian judicial member, Madame Justice Colleen Suche of the Manitoba Court of Queen's Bench. Such a wonderful time to compare notes and build alliances moving forward. Great to make new local friends in far off places.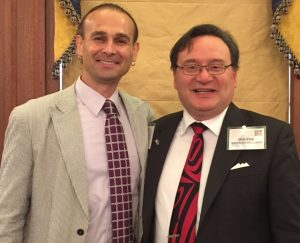 Attending the Oklahoma Supreme Court Sovereignty Symposium lunch presentation for State, Federal and Tribal Judiciary where good friend Professor Taiawagi Helton of the College of Law, University of Oklahoma, hosted an examination of the important case of Royal v. Murphy of the 10th Circuit Court, now on appeal to the U.S. Supreme Court on the issue of original jurisdiction and scope of the Muskogee Creek Territory. If Congress never properly disestablished the Muscogee (Creek) Nation Reservation, which was created by treaty in 1866, the state of Oklahoma does not have the proper jurisdiction in the Patrick Murphy case, which in turn vests original jurisdiction to over half of the state of Oklahoma to the Muskogee Creek. The most significant case for Oklahoma since its inception as a state.
For more see: http://kosu.org/post/supreme-court-case-could-remake-notion-tribal-sovereignty