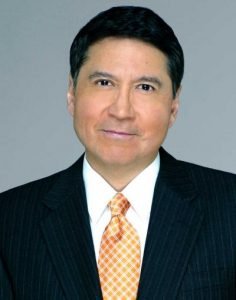 Vince Logan
Senior Advisor – Tribal Wealth Practice
Permanens Capital
Vincent G. Logan, former Special Trustee for American Indians and currently Senior Advisor, Tribal Wealth Practice at Permanens Capital.  Mr. Logan was nominated by President Obama as the Special Trustee for American Indians and confirmed by the U.S. Senate and sworn in as the Special Trustee for American Indians on July 7, 2014, the fourth person to hold the position.  Vince was the day 1 2018 Keynote Speaker for the June 2018 IITIO Spring Tribal Trade Mission and Conference.  Our fall 2018 Conference is set for beautiful British Columbia, September 21-23.  To register and learn more about the fall Conference simply click on the Register button on the IITIO website. http://www.iitio.org
The Office of Special Trustee for American Indians works to improve the accountability and management of Indian funds held in trust by the federal government. As trustee, the Interior Department has the primary fiduciary responsibility to manage about $3.7 billion in tribal trust funds and Individual Indian Money accounts, as well as leases for developing natural resources, such as coal, oil, natural gas, timber and grazing, that generate income for those accounts.
Vince is a member of the Osage Nation, originally from Norman, OK and now he currently resides in New York, NY.
Vincent G. Logan founded The Nations Group, LLC, which works with Native American tribes on asset management, investment strategies, and financial education. He worked in the Private Banking and Investment Group at Merrill Lynch from 2006 to 2009, and was a corporate finance attorney for Schulte, Roth, & Zabel from 2001 to 2006. Prior to that, Mr. Logan worked in the Antitrust Division at the United States Department of Justice from 1996 to 1998. He was appointed to the Oklahoma State University Foundation Board of Governors in 2010. He received a B.S. from Oklahoma State University and a J.D. from the University Of Oklahoma College of Law.
For more information on Tribal Wealth Practice at Permanens Capital in New York City, click on the investment firm's link https://www.permcap.com/, or speak directly with Vince at Permanens Capital by phoning the firms client outreach contact, Tom Butler at 212-993-7447