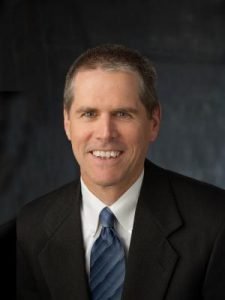 Tom Leydorf
Executive Vice President for Corporate Strategy
Chickasaw Nation Industries Inc.
Chickasaw Nation Industries has presented at every IITIO Conference with enormous success.  Our fall 2018 Conference is set for beautiful British Columbia, September 21-23.  To register and learn more about the fall Conference simply click on the Register button on the IITIO website. http://www.iitio.org
Spring of 2018 we were delighted to have Tom Leydorf  present on some of the successful international Indigenous trade deals struck around the world and especially in Canada.  Mr. Leydorf is an experienced executive who has successfully led diverse teams for the federal government and private companies. He currently serves as Executive Vice President for Corporate Strategy at Chickasaw Nation Industries, Inc (CNI). CNI is a holding company that owns about one dozen businesses providing IT, engineering, and professional services to federal and commercial customers. CNI employs about 2,000 people with offices throughout the United States.
Mr. Leydorf also created and oversees CNI's market intelligence team, which includes several analysts and produces intelligence reports on key industry trends. The team uses advanced analytical tools and techniques to derive insight from internal and external data sources.
Previously, Mr. Leydorf served as the top senior executive for a limited liability company operating 35 projects and generating $25 million in annual revenue. Owned by the Chickasaw Nation, this company provides IT and professional services to federal customers. Mr. Leydorf created a new strategic plan and implemented a marketing initiative that substantially increased revenue and profits during his four-year tenure.
Mr. Leydorf served as the Executive Director and Research Director of the Urban Warfare Analysis Center (UWAC) from 2006 to 2010. The UWAC is a privately-operated research group sponsored by the U.S. Army. Over the course of his time at the UWAC, Mr. Leydorf established the center and hired, cultivated, and led high performing teams comprised of 15 personnel with multidisciplinary academic and professional backgrounds.
Mr. Leydorf previously served in the U.S. Intelligence Community between 1991 and 2006. During his government service he was promoted in the top rank of his class five times, reaching the highest general service (GS) level in the federal government (GS-15). Mr. Leydorf possesses polished writing, speaking, and analytical skills.
Mr. Leydorf employs a "servant leadership" style of managing and leading his teams. He seeks to lead by serving others, setting the right example, working hard, and crafting a vision for what the team can accomplish together. Mr. Leydorf has received multiple awards for leadership, management, and analytical thinking.
Mr. Leydorf is all-but-dissertation (ABD) toward a PhD degree in international affairs. He holds Master of Arts degrees in theology (Fuller Theological Seminary) and international relations (University of Maryland, College Park). He holds a Bachelor of Arts degree in political science and economics (University of California, Berkeley).
Mr. Leydorf lives with his wife Micah Swafford Leydorf and sons Elijah and George in Norman, OK. He is an active member of McFarlin United Methodist Church, where he teaches a weekly Sunday School class. He enjoys travel, golf, and playing sports with his sons.
For more information on Chickasaw Nation Industries International trade opportunities click on the law firm's link, https://www.chickasaw.com/ or speak directly with their economic development and business development specialist, Jonna D. Kauger Kirschner at (405) 253-8409.