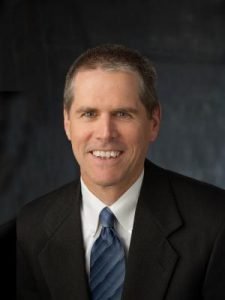 Tom Leydorf
Executive Vice President for Corporate Strategy
Chickasaw Nation Industries Inc.
Chickasaw Nation Industries has presented at every IITIO Conference with enormous success.  Our Spring 2019 Conference is set for majestic Oklahoma,June 2, 3 & 4.  To register and learn more about the Spring Indigenous Trade Mission and Conference simply click on the Register button on the IITIO website. http://www.iitio.org
Spring of 2018 we were delighted to have Tom Leydorf  present on some of the successful international Indigenous trade deals struck around the world and especially in Canada.  Mr. Leydorf is an experienced executive who has successfully led diverse teams for the federal government and private companies. He currently serves as Executive Vice President for Corporate Strategy at Chickasaw Nation Industries, Inc (CNI). Chickasaw Nation Industries, Inc. (CNI) is a federally chartered corporation wholly owned by the Chickasaw Nation. Headquartered in Norman, Oklahoma, CNI serves as a holding company with multiple subsidiaries that operate as Limited Liability Companies (LLCs) engaged in several lines of business for both the federal government and commercial enterprises. CNI's Division of Civilian Services and Defense Division both serve the federal government, and their Filtration, Network Services, and Research, Development, Test and Evaluation lines of business serve commercial enterprises.
Mr. Leydorf also created and oversees CNI's market intelligence team, which includes several analysts and produces intelligence reports on key industry trends. The team uses advanced analytical tools and techniques to derive insight from internal and external data sources. Previously, Mr. Leydorf served as the top senior executive for a limited liability company operating 35 projects and generating $25 million in annual revenue. Owned by the Chickasaw Nation, this company provides IT and professional services to federal customers. Mr. Leydorf created a new strategic plan and implemented a marketing initiative that substantially increased revenue and profits during his four-year tenure. Mr. Leydorf served as the Executive Director and Research Director of the Urban Warfare Analysis Center (UWAC) from 2006 to 2010. The UWAC is a privately-operated research group sponsored by the U.S. Army. Over the course of his time at the UWAC, Mr. Leydorf established the center and hired, cultivated, and led high performing teams comprised of 15 personnel with multidisciplinary academic and professional backgrounds.
CNI is structured in a manner that promotes reach-back to a corporate shared services model which provides their customers the standardization, consistency, and quality control of a large business while maintaining the agility,flexibility, and readiness advantages of a small business. Including the holding company, CNI currently has 27 companies and six joint ventures with other companies.
With approximately 1,800 employees and operations in over 40 states, as well as 5+ OCONUS locations scattered throughout the Caribbean, European, African, and Pacific regions, CNI supports a diverse culture that offers innovative approaches and customer-centered proven solutions. When you perform business with CNI, you gain efficient and cost-effective solutions that help safeguard the environment, protect and secure key assets, and connect resources to needs.

CNI is proud to support the economic development of the Chickasaw Nation and to contribute to the tribal mission of enhancing the overall quality of life of the Chickasaw people. A portion of CNI's profits is used to support Chickasaw citizens through a multitude of programs and services such as education, health care, nutrition services, housing programs, legal services, elder and child care and community support programs. Successful economic development is an integral part of the Chickasaw Nation's operations.

For more information on CNI, please visit www.chickasaw.com or contact Jonna Kirschner, Senior Vice President Economic Development, at (405) 253-8409.