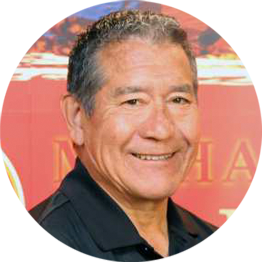 During our spring Conference (June 2-5, 2018) Grand Chief Joseph Norton of the Mohawk Council of  Kahnawà:ke, presented on the his nation's newest international business venture; global data storage. This exciting and innovative venture offers the world secure and reliable off-site data storage for global business market.  Our spring 2019 Indigenous Trade mission and Conference is set for majestic Oklahoma, June 2, 3 & 4.  To register and learn more about the IITIO Spring Indigenous Trade Mission and Conference simply click on the Register button on the IITIO website. http://www.iitio.org
Grand Chief Joseph Norton was interviewed at the spring 2018 IITIO trade mission and conference at the College of Law, University of Oklahoma, Norman, Oklahoma:
Joseph Tokwiro Norton has been a leader in his community of Kahnawà:ke for parts of five decades. First elected to The Mohawk Council in 1978, he served as Grand Chief for an unprecedented 26 consecutive years. Declining to seek re-election in 2004 he entered the world of private business. In May 2015 the urge to return to the political forum was too strong to deny and he decided to run for office once again, successfully attaining a fourteenth term as Grand Chief.
Grand Chief Joseph Norton's leadership founded Mohawk Internet Technologies and Tewatohnhi'saktha Economic Development Commission.  He continues to dedicate his energies to improving Kahnawà:ke's future by promoting educational, cultural and business concerns while defending and promoting Kahnawà:ke's jurisdiction in all matters that relate to the community's needs and aspirations.
Over the years he has represented his people on countless occasions. He is recognized across Canada as
a leader of uncommon influence. He was Grand Chief during the 1990 Oka Crisis, where his leadership
skills became known far beyond the bounds of his own community. His style can best be described as
direct and straightforward, with a philosophy that acknowledges strong traditional beliefs and a firm
commitment to maintaining the Mohawk way of life.
Grand Chief Norton's volunteer activities are too numerous to mention in detail but highlights include
his membership as a founder of the Canadian Native Arts Foundation and his membership on the Board
of the Canadian Chapter of the Jane Goodall Institute. He engaged in philanthropical work through his
Sahenatie Community Fund, which has presented scholarships and bursaries to many Kahnawà:ke artists
and athletes over the years.
In 2002, he received the National Aboriginal Achievement Award in the Public Service category in
recognition of his efforts to bring improvements to the community in the areas of economic
development, health care, education, culture and recreation.
He continues to live in Kahnawà:ke and enjoys participating in the lives of his children and
grandchildren. He has also been known to play a round or two of golf during the summer months.
More information on various business opportunities with the Mohawk of Kahnawà:ke click on their business development link, http://www.tewa.ca  or speak directly with the head of Economic Development for the Mohawk of Kahnawà:ke; Kyle Delisle, MBA at (450) 638-4280.