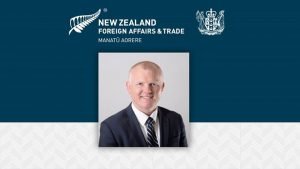 IITIO is pleased to announce that the 5th International Indigenous Trade Mission and Conference in British Columbia. Canada September 21-23, 2018 will be key-noted by His Excellency Daniel Mellsop, the New Zealand High Commissioner to Canada.  To register and learn more about the fall Conference simply click on the Register button on the IITIO website. http://www.iitio.org
Daniel Mellsop was appointed New Zealand High Commissioner to Canada in February 2016. He is also cross-accredited as the High Commissioner to Jamaica.
Daniel is a career diplomat.  During his time in the New Zealand Ministry of Foreign Affairs and Trade he has worked on a wide range of issues, from trade negotiations to counter-terrorism.  Previous appointments included postings to the New Zealand embassies in The Hague and Seoul.  He also undertook a secondment to the Office of the Minister of Foreign Affairs, Hon Murray McCully.
Prior to taking up his appointment in Ottawa, Daniel was the Head of the International Branch at the Ministry of Defence.  The Branch is responsible for providing policy advice to the government on international military deployments and other international defence engagements.  As a senior official, Daniel was heavily involved in leading bilateral and multilateral defence diplomacy activities.
Daniel attended the University of Waikato in New Zealand where he studied Korean and Economics graduating with a Bachelor of Arts and a Master of Management Studies with honours.
Daniel is joined in Ottawa by his partner Jane Hooker and two children. Daniel and his family are passionate about embracing the great Canadian outdoor lifestyle.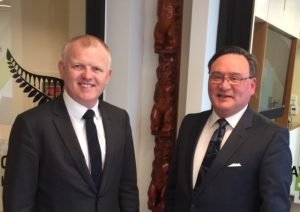 On March 29, 2018, Wayne Garnons-Williams, Chair of IITIO had a wonderful discussion on International Indigenous trade with New Zealand High Commissioner to Canada, Mr. Daniel Mellsop wherein he advised that the Indigenous people of New Zealand and its government would welcome Indigenous trade opportunities between Canada and New Zealand Indigenous peoples.  A great deal of discussion was had discussing Indigenous Trade policy, law and meaningful economic opportunities between Canada, New Zealand and others nation-states to embrace Global Indigenous Trade.