Kukpi7 (Tribal Chief) Wayne Christian of the Shuswap Nation Tribal Council traveled to the IITIO Spring Conference at the College of Law, University of Oklahoma, wherein formally invited all interested tribal leaders and Indigenous business representatives into the Secwepemc Territory where his people will co-host the 5th International Indigenous Trade Mission and Conference.
Our fall 2018 Conference is set for beautiful British Columbia, September 21-23.  To register and learn more about the fall Conference simply click on the Register button on the IITIO website. http://www.iitio.org
"The Secwepemc People, known by non natives as the Shuswap, are a Nation of 17 bands occupying the south central part of the Province of British Columbia, Canada. The ancestors of the Secwepemc people have lived in the interior of BC for at least 10,000 years. At the time of contact with Europeans in the late 18th century, the Secwepemc occupied a vast territory … The Nation was a political alliance that regulated use of the land and resources, and protected the territories of the Shuswap. Although the bands were separate and independent, they were united by a common language – Secwepemctsin – and a similar culture and belief system" Secwepemc Cultural Education Society.
The Land of the Secwepemc: "The Secwepemc [pronounced suh-wep-muh] territory covers a vast area; approximately 180,000 square km. The territory, traditionally, was an extensive and varied environment, although much of the territory today is destroyed by forestry, mining, mass scale tourisms, and other commercial developments." See an interactive environmental map that shows the locations of the Secwepemc bands: Secwepemc Traditional Territory.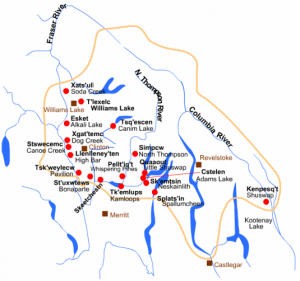 Shuswap Nation Tribal Council (SNTC) represents ten bands: Sexqeltqin (Adams Lake); Kamloops; Kenpesq't (Shuswap); Quaaout (Little Shuswap); Neskonlith; Splats'in (Spallumcheen); St'uxwtews (Bonaparte); Skeetchestn; Whispering Pines, Clinton (Pelltiq't); Simpcw (North Thompson). Northern Shuswap Tribal Council (NSTC) is the umbrella for: Tsq'escen' (Canim Lake); Xats'ull, 'Cm'etem' (Soda Creek, Deep Creek); Stswecem'c /Xgat'tem (Canoe Creek, Dog Creek); T'exelc (Williams Lake). Non affiliated bands are: Ts'kw'aylaxw (Pavillion); Esketemc (Alkali Lake); and Llenlleney'ten (High Bar).
For more information on Secwepemc Nation Tribal Council click on the SNTC link http://shuswapnation.org/ , or speak directly with their economic development and business development staff at (778) 471-8200.