Chief Dr. Ronald E Ignace of the Skeetchestn First Nation, Councillor Jeanette Jules and Councillor Viola Thomas both of the Tk'emlups te Secwepemc First Nation were the Secwepemc hosts for the first Canadian Global Tribal Trade Symposium held in the heart of Secwepemc territory – Kamloops, BC at the Faculty of Law, University of Thompson Rivers.  The Secwepemc delegation provided a wonderful opening presentation concerning the history of the Secwepemc peoples and the fact that the trading centre for the region has been focused on the area we now call Kamloops.   We learned that this area now known as Kamloops was a Secwepemc trading hub with oolican grease trails coming from the west coast, obsidian trading trails coming from the south, buffalo trading trails coming from the west and cariboo trading trails coming from the north.  The Secwepemc territory located in central BS is vast. Attache dis a map of the traditional territories with current and historic Secwepemc communities indicated by colour code and shape:  secwepemec-map
We also heard the history of trade and the fact that during the gold  rush in the Secwepemec territory, the Secwepemec government permitted prospecting but only with permission of the Secwepemec Council.  The conference attendees were provided with a significant piece of Secwepemec history; a letter written in 1910 to the Prime Minister of day, Wilfred Laurier, clearly setting out the Secwepemec case for respect and deference to be given to the Secwepemec people and territory.  Attached in the 1910 letter: 1910-letter-to-pm-from-secwepemec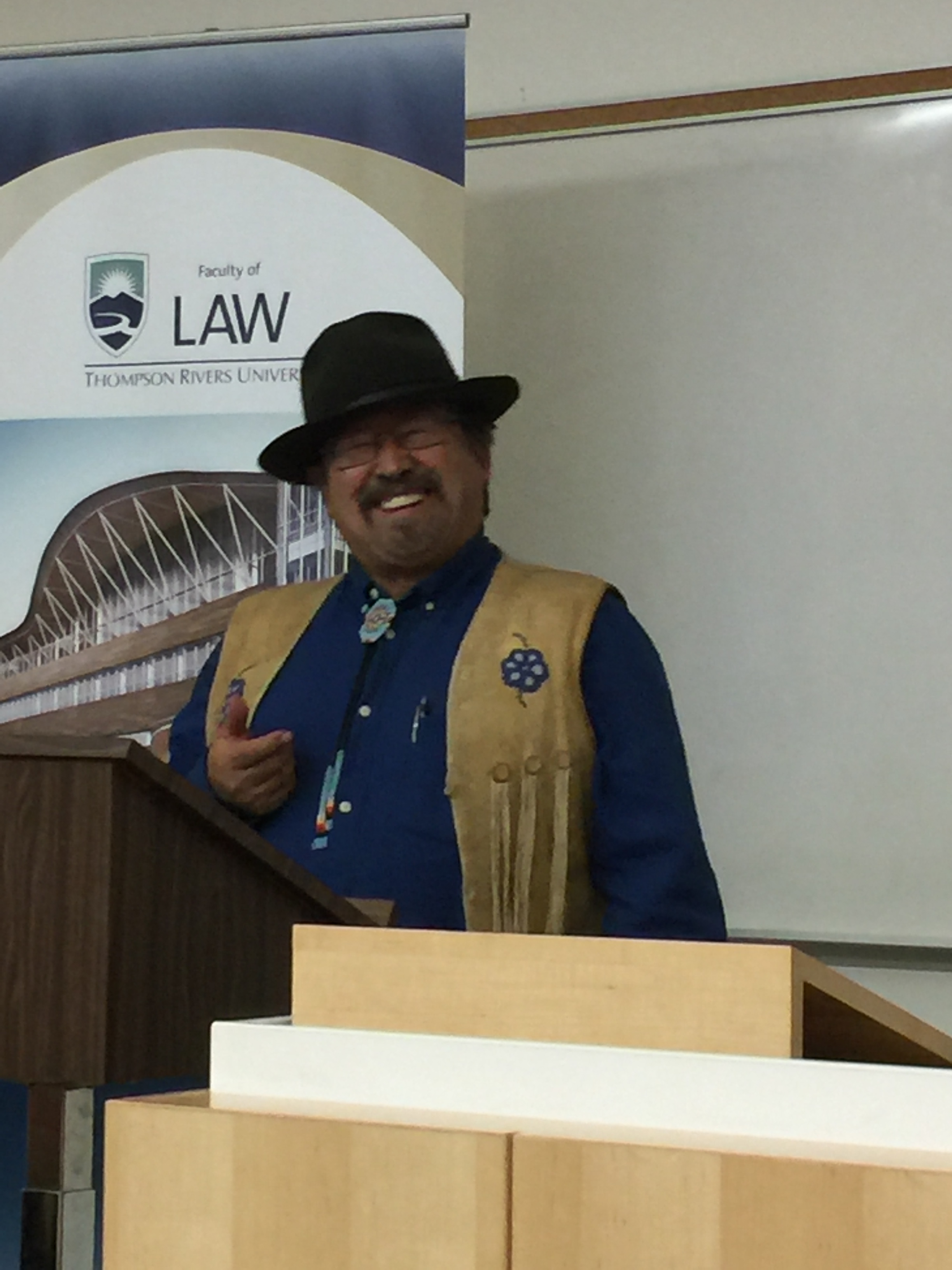 Chief Dr. Ronald E. Ignace is the son of Lizzy Ignace from Skeetchestn and Francis Jules from Tk'wmlups. He was raised in Skeetchestn  in the Secwepemc language by his great-grandparents Julienne (Sulyen) and Edward Eneas. He is a survivor of the Kamloops Indian Residential School. He has been the elected Chief of the Skeetchestn Band for more than 26 years since the early 1980s, and also served as Chairman of the Shuswap Nation Tribal Council and president of the Secwepemc Cultural Education Society during the late 1980s and 1990s. For many years he was the co-chair of the Aboriginal university partnership between the Secwepemc and Simon Fraser University in Kamloops, B. C., and occasionally continues to teach courses in Secwepemc Language  and First Nations Studies through SFU. He holds B.A. and M.A. Degrees in Sociology from the University of British Columbia, and completed his PhD in Anthropology at Simon Fraser University in 2008 with a dissertation titled Our Oral Histories are Our Iron Posts: Secwepemc Stories and Historical Consciousness. 
Having more than sixty years of practical experience in Secwepemc traditional food harvesting and having learned these skills from his own elders who shared their stories and teachings in the Secwepemc language with him, Ron has published, and co-published with his wife Marianne Ignace, several articles and book chapters on Secwepemc history, ethnobotany, language and culture. Ron was instrumental in establishing the AFN's National Chiefs' Committee on Language and Culture (1999-2003) and was called upon to chair the Task Force on Aboriginal Languages and Cultures appointed by the Federal Minister of Cultural and Heritage (2003-2005). He represented the AFN at the United Nations from 1989-1993. Throughout his many terms of office as chief of the Skeetchestn Band, supported by his band council and the community, he was able to settle two large specific claims which provided funds for buying more than a thousand acres of ranch land and grazing leases in Deadman Creek Valley and surrounding areas. In conjunction with the establishment of a three million dollar trust for the band, Ron has been a leader in advancing the economic development of the band through various companies, and has implemented a well-functioning housing program on reserve. Ron has above all maintained the vision of seeking justice and reconciliation on the issues of Secwepemc land title and rights, such as the Six Mile case leading to a settlement, and other cases that are ongoing.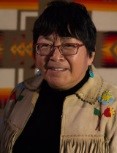 A Tk'emlupsemc residential school survivor, Viola has spent 30 years of her life advancing the rights of Indigenous peoples on a regional and national level.
Viola was the first Indigenous woman elected as National President for the National Association of Indian Friendship Centres, the First Indigenous woman elected President of United Native Nations Society of British Columbia, the
First Indigenous woman to be elected President of Rural Remote BC Native Housing Authority. Viola played a key role nationally for the Residential School Commission to bring forth public awareness and participation.
Viola was instrumental at the Supreme Court level in the "Baby Ishmael" case on the rights affecting access by grandparents.
Viola played a key role to ensure media coverage and public awareness of murdered and missing Aboriginal women in Canada.
Viola was recognized by the Indigenous Bar Association for her role in developing the National Anti-Racism Symposium in Montreal, Quebec.
Viola received an award from Extra Newspaper, Vancouver, for contributions she made in Community Development on behalf of Indigenous peoples.
Viola was a founding member for development of Northern Native Broadcasting Society, Terrace, BC.
Viola also received award recognition by Native Women's Summit in Hazelton, BC, for her contributions to advance Indigenous women and young Indigenous women.
Viola set a precedent with the Workers Compensation Board for recognition of "post- traumatic stress" in the William Blackwater case.
Experience 
Seven Years working with the Truth and Reconciliation Commission of Canada, Ottawa; past year with Reconciliation Canada based out of B.C.
Over 14 years of experience of working in a variety of roles within the Federal Government of Canada 
This includes working in a advisory capacity in the following areas: Policy Development and Analysis; Intergovernmental Affairs; Project Management; Public Relations and Program Development ; and Public Legal Education advocacy
Worked with City of Vancouver as a Cultural and Education Programmer 
Previous Public Legal Education Program Officer with BC Legal Services Society Native Programs 
Paralegal worker Aboriginal Justice Centre Vancouver focusing on Poverty Law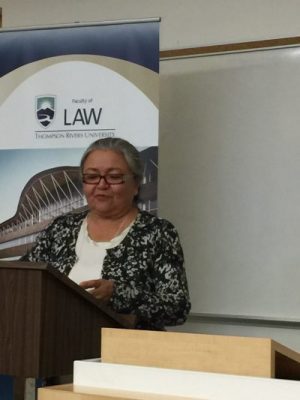 JEANETTE JULES is Councillor with Tk'emlups te Secwepemc Indian Band. From an early age, she was singled out to be an educator for the community. Her elders taught her the oral history of her family and her community. Jeanette is now a keeper of the flame, traditional knowledge carrier, pipe carrier, eagle, swan and coyote whistle carrier, sweat lodgekeeper, ceremonial keeper and medicine keeper for the Secwépemc. Jeanette was first elected to the Tk'emlúps te Secwépemc Band Council on November 8, 2009. She maintains a portfolio on the Natural/Cultural Resource Management Office, Land Claims, Title and Rights Office, Douglas Reserve Initiative andLegal/Justice, Secondary Portfolio is the Lands Leasing and Taxation. She is a member of the executive of the Stk'emlúps Secwépemc Division which consists of the Tk'emlúps te Secwépemc and Skeetchestn IndianBand (SSN) – one of the seven historic "Divisions" (Campfire) of Secwépemc Nation. Prior to election to the Band Council, Jeanette worked for 32years in the Education Department mainly at the Little Fawn Nursery, which has an immersion program to teach the Secwépemc culture and language – the first of its kind in Canada. She also administered various other areas within education including K-12, Post-Secondary Trades Training and Business Relationships. Jeanette, the Band Council and SSN believe that they have a duty to future generations to encourage the growth and development of their land and people by establishing relationships with the business community. To that effect, they have taken a proactive approach to protecting their land by becoming involved in each and every land management and stewardship decision, whether it be with government or private businesses. The Joint Chief and Councils of SSN believe in building a strong sustainable economy and in building a skilled TteS/SSN workforce through education and employment initiatives with our partners.
Jeanette is in her second term as a TteS Councillor; she was first elected in 2009.